July 25, 2012 in Blog, Community, Revenue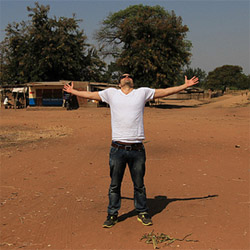 AJ Leon, co-founder of the creative marketing company Misfit, Inc., opens up to the possibilities in Kaniche, Malawi.
Courtesy Misfit, Inc.

Last week, Robert Burns Nixon, CFO of the San Francisco Fashion and Merchants Alliance, highlighted here several fashion industry best practices that might work well in publishing too. For example, getting direct feedback on concepts before going into full production, and holding trademarked events.
For more business insights from beyond the usual suspects, we invited AJ Leon, co-founder of Misfit, Inc. to, as Robert did, read the JA forums on local and niche news held earlier this year and respond. AJ offers insights where he sees promise for publishers to gain greater revenue, deepen connections and capitalize on the power of immediacy. The interview has been edited for clarity and length.
Misfit, Inc., started because it fulfilled a dream. AJ and Melissa Leon wanted to travel. They also wanted to do creative work for causes they support. So AJ left banking and Melissa left teaching. Slowly but steadily, they built a business that develops creative media campaigns all over the world. They are dipping into publishing now too, with a planned e-guide to renting out your home using Air BNB and a new multimedia arts journal. Before offering thoughts on business approaches he's taken that might be useful to publishers, AJ found plenty to learn in the JA conversations on sustaining local and niche news. Read the rest of this entry →