CJET: Business Essentials and Best Practices
"Sell everything but our integrity"
The Texas Tribune is often held up as a model for other news startups to emulate. And editor Evan Smith is just as often held up as a leader to learn from. Interviewed via Skype at a CJET kickoff event, he urged publishers to define a mission and stick with it, be audacious – think P.T. Barnum – and be clear about what you are and what you are not. His talk inspired many publishers; and felt a bit intimidating to some.
One cited the Evan line highlighted here: "Sell everything but your integrity" as a significant takeaway. It is a new frame to define how to create a sustainable journalism business, but a confrontational one, because it challenges journalists-turned-entrepreneurs to fully embrace their seemingly conflicting missions: make money and do great work.
The tools, tips, leads and insights offered here aim to support publishers everywhere working to build sustainable news businesses.
Partners

Business Building Blocks: Preparing to succeed in business.
CJET covered a four-day curriculum in two days. The prep work guided participants to consider their publishing work through the lens of a business decision maker. These two simple questionnaires asked them to draft a basic business plan and inventory some current practices. Later, participants used the worksheets to help write a highly focused, goal-oriented 100-day action plan with specific tasks and benchmarks.
Six questions and three charts to align the essential elements of your business.
Business Plan
Deceptively simple; designed to introduce strategic thinking.
Business Practices
Know Your Revenue Mix: How does your business compare?
CJET publisher expenses in aggregate: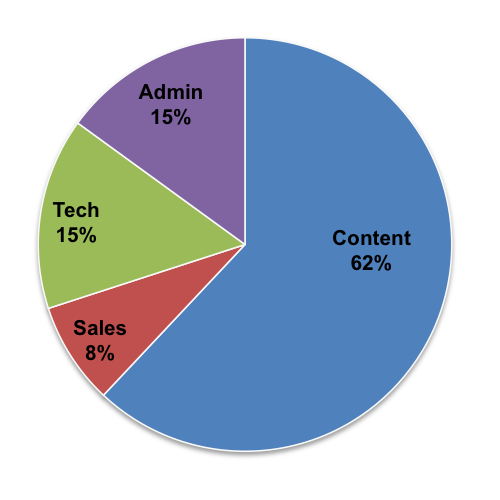 Click to enlarge.
"The key takeaway is the heavy spending on content relative to other areas, especially sales. To achieve financial sustainability, you need a much more balanced approach, with content and sales/development getting roughly equal slices of your expenses and your attention."
– Janet Coats.
CJET publisher revenue in aggregate: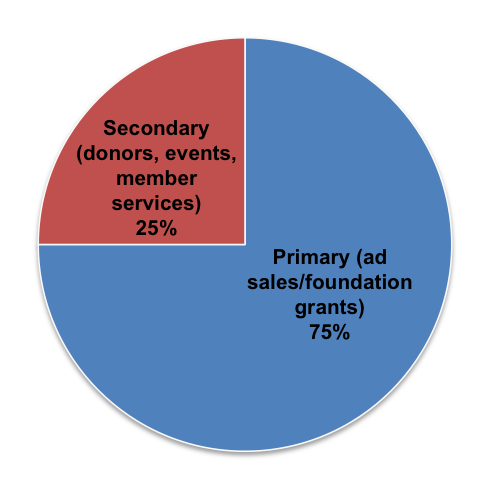 Click to enlarge.
"The key takeaway is the heavy reliance on single sources for revenue — ad sales for for-profits, foundations and grants for non-profits. It is important to diversify revenue streams, both as a means of avoiding over-reliance on one single source for your survival and as a means of reaching into different aspects of your community to build support and enthusiasm for your work." – Janet Coats.
CJET Teachings & Tips: A collection of tools shared at CJET
A handy way to set clear expectations for your nonprofit board.
Track only data useful for making decisions, get more out of what you measure.
Leveraging social and emotional connections to source community funding.
An easy, essential list of steps for more successful foundation relationships.
Guidelines to assess and choose tools that may add value to your work.
JA Business-Building Resources: Collected or created to help grow sustainability
Useful and practical tools, ideas and information to build a sustainable news business. From the JA collection of more than 300 cross-network resources, selected for their proven or potential value to publishers, curated to showcase their practical use; the JA blog, which highlights innovation, distills ideas and reports learnings; and JA forums, where the community shares insight, examines assumptions and surfaces risks.
Resources
Blogs
Forums
---