Resource:
A new J-Lab report separates quantity from quality in audience engagement, exploring how to measure meaningful connections and track impact. Packed with case studies, tools and practical tips.
Engaging Audiences: Measuring Interactions, Engagement and Conversions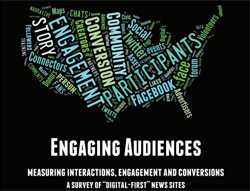 The rise of social media tools has empowered online news startups to distribute content, market their sites and track users. However, most small news sites say they cannot lasso data to track whether they are turning users into supporters who will help their sites survive.

According to a national survey on audience engagement, nearly eight in 10 online survey respondents said they could not measure whether their engagement strategies were also converting readers into advertisers, donors, content contributors or volunteers…

"Such an effort is beyond our capacity," said one respondent. "We need help," said another.

These are among key findings of a new survey, funded by the Robert R. McCormick Foundation, focusing on how "digitalfirst" news sites are engaging their audiences and measuring that engagement.

"These small sites can measure interaction with their content, but they don't have good tools to measure meaningful engagement," said Jan Schaffer, director of J-Lab: The Institute for Interactive Journalism, which spearheaded the research. "This affects both the future of their operations and the impact they can have in their communities."

…At least four types of engagement surfaced in the survey responses, but how well the respondents optimized these engagement strategies varied by organization. They include:

Engagement as outreach, driving users to consume content.
Engagement as reaction, inviting users to comment, share, like and chat.
Engagement as stakeholder participation, getting users to contribute stories, time, funding.
Engagement as civic participation, activating audience members to address community issues."

Source: Engaging Audiences: Measuring Interactions, Engagement and Conversions (pdf)
The Journalism Accelerator is not responsible for the content we post here, as excerpts from the source, or links on those sites. The JA does not endorse these sites or their products outright but we sure are intrigued with what they're up to.
---