Resource:
Medill grad student research cooked this up: "A step-by-step process that can be used to create a business out of a hyperlocal news website." Bright minds ask fresh questions.
Sustaining Hyperlocal News: An Approach to Studying Local Business Markets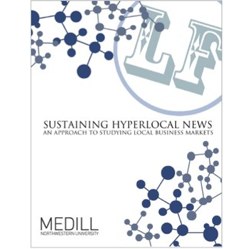 The 'money problem' for news organizations has remained unsolved for decades, and even more so for hyperlocal news organizations. Though our latest how-to guide, "Sustaining Hyperlocal News," attempts to show and encourage hyperlocal publishers to conduct proper research and explore multiple revenue opportunities, it is by no means an ultimate solution…

It's really like learning to ride a bicycle – I can write a comprehensive book about riding a bicycle… I can go into details about the physics of momentum, the mechanics of human brain and the function of balance. But at the end of the day, reading this book simply won't guarantee success when you pedal away for the very first time. In fact, I bet you will fall several times before you get it right.

With that said, I think there is an aspect to this money problem that is similar to riding a bicycle. You can read our cookbook many times over, but when it's time for you to make that sales pitch, you need to be a skilled salesperson and not an academic (this is why in our cookbook, we also recommend hiring a full-time salesperson).

There is definitely an artistic aspect to the process of creating revenue, just like writing the content is an art in itself. There are few guides that touch on the technical part of writing, but you will ultimately develop your own unique tone and style. In the same manner, I believe that you will develop relationships with your hyperlocal audience and business owners over time in your own unique way." Source: Local Fourth
The Journalism Accelerator is not responsible for the content we post here, as excerpts from the source, or links on those sites. The JA does not endorse these sites or their products outright but we sure are intrigued with what they're up to.
---