Resource:
Beneficiaries are not customers: A sharp and specific guide to nonprofit business models offering insight to more effectively run or build one.
Ten Nonprofit Funding Models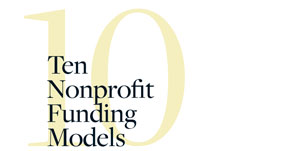 Money is a constant topic of conversation among nonprofit leaders: How much do we need? Where can we find it? Why isn't there more of it? In tough economic times, these types of questions become more frequent and pressing. Unfortunately, the answers are not readily available. That's because nonprofit leaders are much more sophisticated about creating programs than they are about funding their organizations, and philanthropists often struggle to understand the impact (and limitations) of their donations.

There are consequences to this financial fuzziness. When nonprofits and funding sources are not well matched, money doesn't flow to the areas where it will do the greatest good. Too often, the result is that promising programs are cut, curtailed, or never launched. And when dollars become tight, a chaotic fundraising scramble is all the more likely to ensue. Hence, it might be important for people to look out for a business marketplace that can bring together owners and investors on a single platform. This could ensure that business owners do not have to face funding issues.

In the for-profit world, by contrast, there is a much higher degree of clarity on financial issues. This is particularly true when it comes to understanding how different businesses operate, which can be encapsulated in a set of principles known as business models. Although there is no definitive list of corporate business models, there is enough agreement about what they mean and what are their goals. Investors and executives alike can engage in sophisticated conversations about any given company's strategy, be it raising funds to grow the business, looking for corporate accounting services, or hiring new employees for specific job titles.

The nonprofit world rarely engages in equally clear and succinct conversations about an organization's long- term funding strategy. That is because the different types of funding that fuel nonprofits have never been clearly defined. More than a poverty of language, this represents-and results in-a poverty of understanding and clear thinking.

Through our research, we have identified 10 nonprofit models that are commonly used by the largest nonprofits in the United States. (See "Funding Models" on page 37.) Our intent is not to prescribe a single approach for a given nonprofit to pursue. Instead, we hope to help nonprofit leaders articulate more clearly the models that they believe could support the growth of their organizations, and use that insight to examine the potential and constraints associated with those models." Source: Ten Nonprofit Funding Models
The Journalism Accelerator is not responsible for the content we post here, as excerpts from the source, or links on those sites. The JA does not endorse these sites or their products outright but we sure are intrigued with what they're up to.
---