Resource:
Lighting the path, Wetpaint CEO Ben Elowitz invites "eight industry luminaries to share their perspectives on and predictions for the future of media."
Rebooting Media: The Digital Publishing Revolution for a Fully Social Web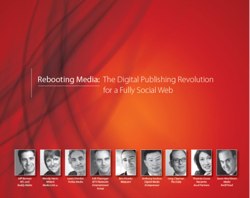 Rebooting Media: The Digital Publishing Revolution for a Fully Social Web brings together eight of the most thoughtful influencers and offers their most cogent assessment of the new online relationship-building that is helping to connect people in absolutely unprecedented ways.
Together, these eight contributors reinforce three dominant themes:

Building a media brand on the new social Web means that publishers have to meet consumers where, when and how they want. It's all about user-driven pull, and publishers need to offer experiences and establish relationships that may not be on their own terms.

Facebook is a transformative platform driving new personalization and connectivity across the upstart social Web. We are still waiting to see all of what Facebook ultimately becomes, but we know it represents a once-in-a-generation paradigm shift.

Any way you look at it, search (as we know it) is declining. The open sharing of social networks, and the power of social endorsement, are seriously altering what consumers look for on the Web, and how we're engaging with content. The search algorithm has lost out – big time – to the will of the audience." Source: Rebooting Media
The Journalism Accelerator is not responsible for the content we post here, as excerpts from the source, or links on those sites. The JA does not endorse these sites or their products outright but we sure are intrigued with what they're up to.
---