Resource:
A treasure trove of data to help you inform your communities; Follow the Money is the only program in the nation that provides high-quality campaign spending data across all fifty states to further the public good.
The National Institute on Money in State Politics: Follow the Money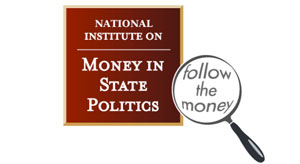 The National Institute on Money in State Politics (NIMSP) is the only nonpartisan, nonprofit organization revealing the influence of campaign money on state-level elections and public policy in all 50 states. Our comprehensive and verifiable campaign-finance database and relevant issue analyses are available for free through our Web site FollowTheMoney.org.

We encourage transparency and promote independent investigation of state-level campaign contributions by journalists, academic researchers, public-interest groups, government agencies, policymakers, students and the public at large.

Every two years, Institute data acquisition specialists collect, input and upload more than 90,000 contribution reports filed by 15,500 statewide, legislative and judicial candidates, 250 political party committees and 500 ballot measure committees in the 50 states. Researchers standardize donor names and code over $2 billion in contributions to 400 business categories and other interests. Programmers create open access to the records and attract thousands of users to the information. Staff also introduce users to the tools and resources and work with dozens of reporters to answer questions and provide custom data sets for their investigation.

The Institute receives its data in either electronic or paper files from the state disclosure agencies with which candidates must file their campaign finance reports. The Institute collects the information for all state-level candidates in the primary and general elections and then puts it into a database." Source: followthemoney.org
The Journalism Accelerator is not responsible for the content we post here, as excerpts from the source, or links on those sites. The JA does not endorse these sites or their products outright but we sure are intrigued with what they're up to.
---