September 6, 2012 in Blog, Community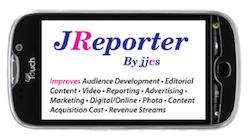 JReporter is a mobile software app designed for editors to ask for community reporting, and get back useful, verifiable information in an easy to manage way. There is room for ads and sponsorships. JReporter can also send news stories to readers. It's new, and JJCS is looking for partners to test drive.

JReporter is new; its creators at JJCS are looking for newsrooms with a commitment to community engagement to test it. Essentially, JReporter is a white label (meaning you can put your own brand on it) mobile app that's designed to make gathering and reporting community news easy for both contributors (whether professional reporters or community contributors) and news organizations.
We chose JReporter for the second in our new online conversation series highlighting specific resources for publishers from our growing collection because it aims to solve specific problems we hear about in JA conversations, most notably fewer staff, challenges in engaging audience, and the need for multiple sources of revenue.

"Just like other apps on their smart phones." That is how JJCS executive director Jo Ann Froelich would describe JReporter to someone who might use it to send video of a school soccer match, or a bit of Q &A from a city council meeting, to a local news organization. It "facilitates a two-way conversation between the media company and its audience," says JJCS founder John Juliano. Editors can "assign" with JReporter by posting a note about what coverage they're actively looking for. Read the rest of this entry →