Blog:
JA Resource Q&A: JReporter "facilitates a two-way conversation between the media company and its audience."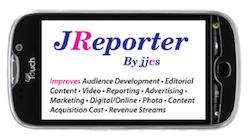 JReporter is a mobile software app designed for editors to ask for community reporting, and get back useful, verifiable information in an easy to manage way. There is room for ads and sponsorships. JReporter can also send news stories to readers. It's new, and JJCS is looking for partners to test drive.

JReporter is new; its creators at JJCS are looking for newsrooms with a commitment to community engagement to test it. Essentially, JReporter is a white label (meaning you can put your own brand on it) mobile app that's designed to make gathering and reporting community news easy for both contributors (whether professional reporters or community contributors) and news organizations.
We chose JReporter for the second in our new online conversation series highlighting specific resources for publishers from our growing collection because it aims to solve specific problems we hear about in JA conversations, most notably fewer staff, challenges in engaging audience, and the need for multiple sources of revenue.

"Just like other apps on their smart phones." That is how JJCS executive director Jo Ann Froelich would describe JReporter to someone who might use it to send video of a school soccer match, or a bit of Q &A from a city council meeting, to a local news organization. It "facilitates a two-way conversation between the media company and its audience," says JJCS founder John Juliano. Editors can "assign" with JReporter by posting a note about what coverage they're actively looking for.
And it is built to handle different types of communication. In our "tire-kicking" conversation last week, Christian Gaston editor of the Forest Grove News-Times in Oregon, asked whether news organizations might use JReporter to push out content as well gather it – something he thought might be useful for outlets who don't have their own content app. Juliano says yes: "It is our hope that JReporter will become the single app for many outlets."
The conversation ranged from the philosophical – why build a tool like this – to the practical – will it really work? Here are a few highlights:
JReporter is designed to help newsrooms get verifiable content from community members. News organizations are JJCS's customers, but they'll need active users to make JReporter work. Why would people use it? John Juliano says it taps into people's desire to participate in coverage of their community. There is also a rewards feature built in.
On the more practical level, Mary Turck of Twin Cities Daily Planet in Minnesota wanted a price, and expressed doubt that an outside mobile app could feed seamlessly into her news operation. "I suspect the main breakdown will be in the 'integration with your CMS,'" she told us. "That's never as easy as it sounds." The price, it turns out, depends on the size of the news organization. On the tech front, Juliano notes his long experience developing content management systems for news organizations and says he doesn't expect integration to be difficult.
JReporter builds in ways to verify reporting, as well as advertising and sponsorship opportunities to bring in additional revenue.  But how about this issue, that editor Christian Gaston brought up – a low tech community? "We connect with teenagers at the high school using Twitter and social media and text messages, but their parents aren't there," he wrote. "It's rare to find an adult in our market that we can connect with via Facebook rather than by connecting with them with a telephone call."
Check out Juliano's reply, and the deep belief that drove him to build this tool.
The resource Q&A about JReporter is still open for comments and questions. People who participated will get notified when you post and can reply in the thread.
Our next resource conversation features The Civic Commons, a platform specifically designed to get people across communities talking with each other about local issues. Join us Tuesday, September 11, at 1:30 PM Eastern / 10:30 AM Pacific to meet Dan Moulthrop, curator of conversation at The Civic Commons. We always welcome your suggestions for resources to list and to feature in conversation.


"Encourage… voices of the community"
JJCS founder John Juliano and executive director Jo Ann Froelich bring decades of experience in news content management to JReporter. They know technology will keep changing and JReporter, though new now, will "one day seem quaint."
But the reason Juliano created JReporter will likely survive in one form or another: a news organization "needs to serve its community – trite, I know," he says. "[I]nformation must be of interest to the community and must encourage the voices of the community to be heard."
---