Blog:
JA resource collection designed to fuel your business success

Today's news market finds many publishers overwhelmed by information, tools and apps, with few ways to learn which may hold the most value, be simple to use or bring your business the greatest return. To help news providers search more efficiently across information networks, the JA curates resources with practical value or proven success.
Organized in an easy-access index, this resource collection is designed to help journalists, publishers and others who are looking to find new, sustainable ways to do business. Since launching 15 months ago, the collection has grown to more than 300 listings pulled from scores of sources. Here we offer a quick tour of what you can expect to find in a JA resource listing, explaining how we select and present resources so you can get the most out of them.
There is one unifying theme across all 300+ resources curated on the JA: each is selected because it offers some practical application for people working to build sustainable news businesses. The wide-ranging JA collection includes practical reporting tools, ideas for building community, advertising tips, databases, business models, industry background papers, training opportunities, experiments to watch, organizations to know and so on.
The resource index is organized to help you find what you need faster. An ongoing series of online Q& A sessions can connect you with the creators and other people using the resource.
What you get in a JA resource listing
At the top, a short explainer that articulates the value of the resource: homing in on the specific, practical benefit that can help you work smarter or deepen your business intelligence.
Excerpts from people who created, reviewed or have used the resource describe its key elements and fundamental purpose.
Relevant links that take you directly to the resource, including secondary pages or features so you don't have to waste time digging them out.
An "always on" comment thread to gather direct experiences of people using the resource. Here you can ask questions, offer tips on using the resource or present ideas for improvement. We'll invite the people behind the resource to connect back to you.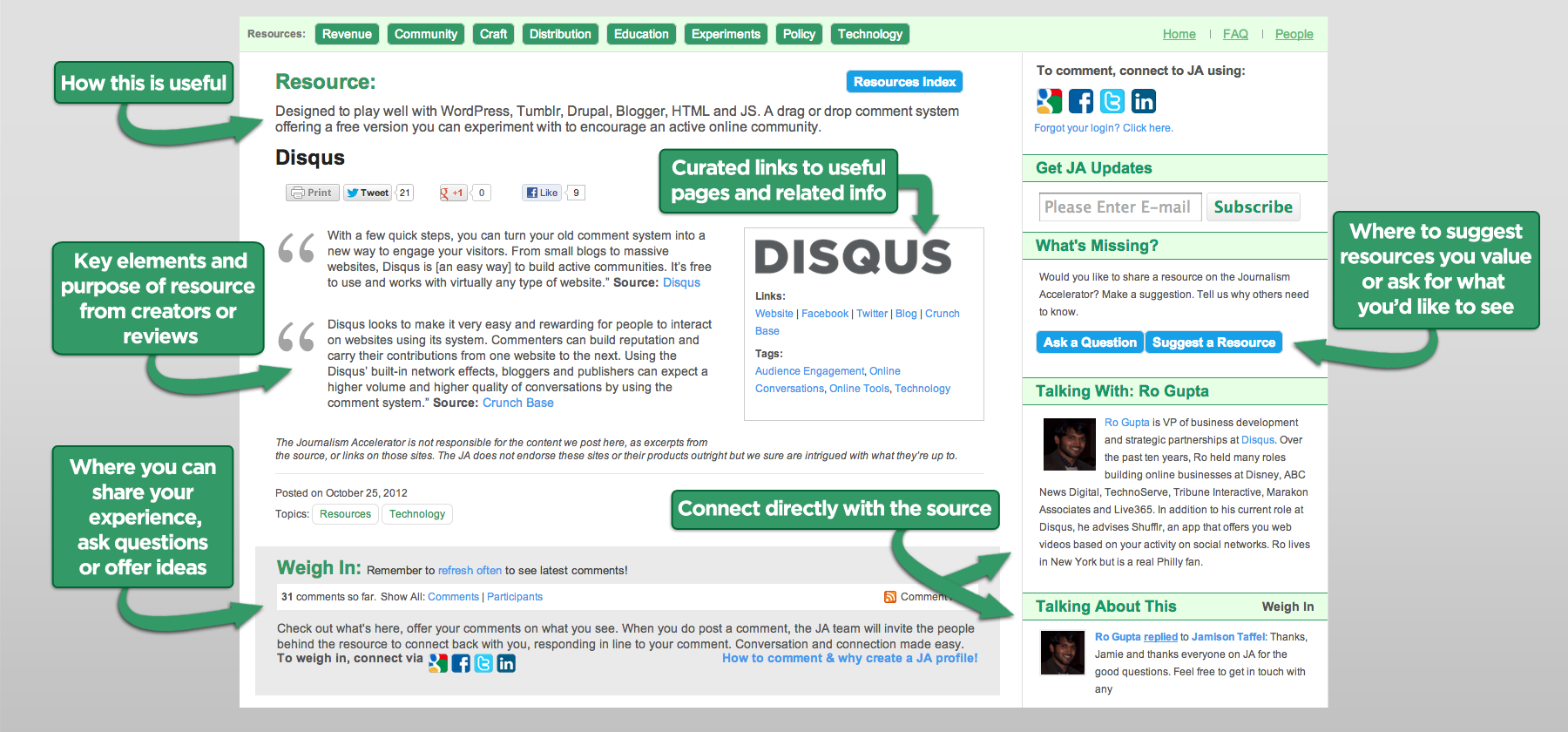 Why the JA lists resources across such a wide spectrum of topics
The JA is a center for sharing information and know-how about what's working now to build sustainable business models for journalism.  Plenty goes into that: bringing in revenue, investing it wisely, creating top-notch content efficiently, building connections with your community, staying current across innovation and research, understanding impacts of policy, figuring out the right ad platform, and getting a fix on new benchmarks and what new best practices suggest. We regularly talk with and listen to news producers, search widely to find unexpected sources of knowledge and analyze information carefully to identify nuggets of practical application in every resource we list. We work across eight categories: revenue, community, craft, distribution, education, experiments, policy and technology. In addition, we use an overlay of internal filters to ensure we cover a range of resource types: tools & tactics, tips & techniques, innovation & experiments, reports & articles, people & collaboration.
This approach lets us offer you quick solutions when you're in need them, different paths to find resources when you're searching for something specific and robust learning opportunities when that's what you're after. Check out this example of a compilation of resources, all focused on understanding different business models. Maybe you'll spot something to inspire or bring new ideas to your news operation!
How to get even more insight and return
You can contribute to this growing collection by suggesting resources you value. Tell us how what you suggest has been important in your work. Your contribution may inspire a live online Q&A session with the resource creator and others who use it. Check out past Q& A sessions on the JA blog index – you can join any conversation anytime and other contributors on those threads will be notified. Follow the JA on Twitter or subscribe to periodic Journalism Accelerator updates to learn when live discussions are happening.
The bottom line
Timely, useful, contextualized news and accurate reporting, gathered and shared to serve the public interest, are central to the information needs of communities in a democracy. The living knowledge base reflected in the JA resource collection is here to help you succeed – to find paths to sustainability by doing more of what works and less of what doesn't. What kinds of resources might help up your yield? We welcome your ideas or frustrations, working to source information to help your news organization thrive.
Four JA resources to find the right business model
A quick sweep of JA resource listings turns up nearly a dozen designed to help you build your news business to last. Here's a popular sampling:
SuBMoJour – Sustainable Business Models for Journalism
A searchable database to help journalism startups see into others' success. Want to review "financially sustainable business model[s]…? Browse case studies…find one that suits your site."
Ten Nonprofit Funding Models
Beneficiaries are not customers: A sharp and specific guide to nonprofit business models offering insight to more effectively run or build one.
---