Blog:
Secret or special sauce? Seattle locals weigh in

The Seattle Journalism Commons (SJC) and the Journalism Accelerator (JA) came together this past week in Seattle to host a conversation with a number of emerging news and publishing innovators. What might we learn from some of these publishers about what is happening in Seattle's vibrant news and information scene? Why is Seattle a media market that is increasingly thriving at a time when so many news communities are struggling across the nation?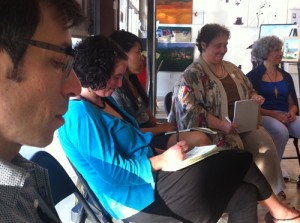 The conversation at Alki Arts on the evening of August 8th was focused around uncovering some of the secret ingredients that are unique to Seattle's media culture of community, collaboration and innovation: a scrappy and earnest lot in Seattle, with some of the nation's leading independent, high-quality community publishers. But there also seems to be an equal emphasis on a healthy form of interdependency between these publishers, both local and legacy, which enables the larger ecosystem to thrive. Janet Coats, who was there with her partner Rusty, shared an observation (and a post on her experience of the Alki event), that the health of Seattle's news and information community appears to be proportional to its thriving collaborative nature rooted deeply into the existing news ecology.
The conversation framed up around: "What makes Seattle's journalism community collaborative and vibrant?"
We had a good mix of interests present; this was the third gathering in the past 10 months that the JA has partnered in to listen and learn from the smart folks in Seattle. These conversations have invited those that volunteered to be a part of a collaborative journalism network that took root out of a larger JTM event in Seattle in January 2010. Many of the folks we've been talking with have been working together informally since that time. The JA has been working closely in collaboration with the Seattle Journalism Commons (SJC) over the past year, with Mike Fancher leading this experiment in partnership with Peggy Holman and Jacob Caggiano. The JA supports the aims of the SJC and larger news and locavore publishing community as new opportunities emerge and capacity across this innovative media market deepens.
Participants in the conversation:
Secret or Special Sauce?
Jacob Caggiano suggested we think about what is unique to Seattle's community more as a special, versus a secret sauce. His point was, if we keep it a secret, then how can others replicate what's working? How can we begin to intentionally create a shared understanding, to seed knowledge from each other's experiments? That way others can do more of what works and less of what doesn't. Reducing duplication of effort or repeating something that perhaps failed, but taking elements that may work in different combination with subtle variations to the recipe.
Kristi Heim challenged us to think about journalism as a service model. If we took "the word journalism out for a minute – what is happening – why – identify issues – what is valuable – Why would [you] pay for it? Sustain it? Why is information central to our lives? — I think we should start there…"
Most everyone wanted to know how we can learn from the work of others that may apply broadly and advance the work of many. And how these journalists, publishers, innovators, technologists and reporters:
Hope to deepen their business value through other partners and the public
Promote civic action and support communities of change
Together share and create techniques to document the dollar value of engagement and impact
Serve as a civic concierge; the business of news as essential information where individuals are able to get a straight answer, well sourced and backed by verifiable data
Can make the benefit of content products clear to their benefactors
Are able to achieve centralized access to sources and resources, and develop ways of sharing information on what emerging experiments yield
Can get the full community involved in innovation within the vibrant Puget Sound media market
Can gain a greater return on content by repurposing it strategically, hunting for new revenue-producing distribution and syndication models
Might better know what stories are not being told within ethnic media, address gaps and bridge communities
Are able to create sustainable localized business models without eroding credibility or integrity
Might make the best use of existing "civic infrastructure," with public resources such as the The King County Library System
Might begin to gain more access to information on experiments and the breaking news across the news and information field, both successes and failures – as its own beat
To better engage with ethnic communities as part of the larger news ecology, based on business value to the ethnic communities, and to strive for representative coverage (and budgets) that align with the % of ethnic populations that live there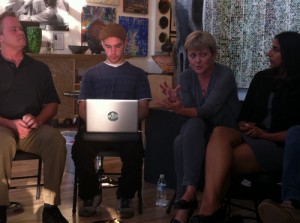 As the group continued the conversation, folks were ready to break into smaller groups. The focus of the breakout groups was to identify elements of Seattle's collaborative model(s), to better understand the ingredients that contribute to Seattle's sizzling news ecology.
This portion of the evening framed up around the question "What models of collaboration are working and to what effect?"
Pam Kilborn-Miller noted the importance of understanding the chronology of Seattle's collaborative ecology and that there are a range of styles and methods in play across different types or categories of news and information.
Other ingredients the group identified that are a part of the recipe of collaboration and cooperation:
Community is integral: "the well" that news producers serve, learn and gain inspiration from
Capacity for impact: focusing on "a solution" ups clarity tenfold both for communities consuming the content, and in guiding how the content products are created
The role of listening as essential to the information flow. It's not just the output produced but active and engaged listening that creates better content products and community participation
Through community gaining greater access to research and techniques others are creating or using, and how different publishers are defining and understanding the needs of their audiences
A shared stake to find a habitat, a place to house the collaboration of Seattle's media and news community while they explore and assess how to create shared space on and offline across networks, publishers, and innovators
Diversity of perspectives seen as a core value to help make the news and information ecology more resilient over the long term
A clear objective to better understand the dollar value of engagement and impact (and yield), sharing "what's working" and "what's not" with one another
A shared goal to help make the benefit of news and information clear: what's in it for the reader?
How to re-establish in the digital age the significance of quality reporting; to recognize the producer as an essential piece in the value/supply chain
Mike Fancher was a big part of the evening, although he was in St. Louis at the AEJMC conference the evening of the gathering at Alki. He has been the leader of the Seattle Journalism Commons effort, and has done a great deal to bring many voices into an ongoing, productive and engaging conversation. I interviewed him earlier this summer to get an insider perspective on his recent paper for the Knight Foundation in partnership with the Aspen Institute. This is a post we'll share soon on the JA, but something Mike said in that interview is a great point to close this post with.
If we were creating journalism today, I do not believe we would have created it in the same form as we did over the past century. 100 years ago, the practice of journalism came to life when information was scarce, distribution expensive, and the possibility for richly engaging in journalism wasn't possible. I believe if it had been possible, to use the interactive communication technologies we have now, and the possibility of that had existed 100 years ago, [journalism] would have been designed as a collaborative process with citizens and journalists working in partnership.
As the field of news and reporting continues to evolve, there is a lot to look forward to, inspired by much of what is emerging in Seattle, as well as in Chicago or Philadelphia and other communities that are gaining steam. Much of this seems to be steeped in a spirit of cooperation and mutual respect within the community for one another's work and thinking. These are innovative news and information practitioners who see more news as a good thing for their communities. Together they have found it enriches their work, capacity, and ability to learn more efficiently by looking to one another for ideas and support.
What's working in your town, neighborhood or city? We welcome you to add your secret ingredients into the conversation.
Our special thanks to Diane Venti and the Alki Arts Community Center who provided an incredible space to convene, Brian and his team at the Cactus next door who fed us a meal that was distractingly delicious with MachPower's Terese and Simone Machmiller for tending to the community!
---