Blog:
Political coverage: Responsive and responsible? Help inform a best practices guide

What are the ethical considerations you apply to your reporting in a high-stakes, fast-paced election when:
truth is deliberately subject to distortion or lies
money is increasingly influential yet harder to track
insults distract from the issues
people who will be directly affected by the actions of those elected feel disconnected from the process
the public largely blames the media as part of the problem
Don't struggle with these questions alone, or debate them isolated in your own newsroom! Join a larger community of peers, together with the Journalism Accelerator, the Kent State School of Journalism, Poynter and The Civic Commons to gather examples and explore ideas from the 2012 election to inform a new Ethics Best Practices Guide to Political Coverage. Be a part of it and join us!
Power over people's lives is the bottom line in any election. With that at stake, how do you navigate the many perils of political journalism? When one small move – a carefully edited video, a distorted fact, a cutting insult – can easily manipulate the power game, what guidelines do you turn to as you report?
Join the Journalism Accelerator, Kent State, Poynter and The Civic Commons in four online conversations to dig deeper into issues and examples surfaced at the 2012 Poynter Kent State Media Ethics Workshop on political coverage, and lay the groundwork for a crowdsourced political reporting best practices guide.
Mark your calendar: Live conversation windows are Tuesdays and Thursdays from 2 to 2:50 PM Eastern over the next two weeks.
September 25th — Social Accountability, with Ellyn Angelotti of The Poynter Institute.
What questions should you ask yourself before you tweet a contentious political bite? With the growing pressure to build a personal brand and engage authentically, how much of yourself is strategic to reveal across your personal and professional networks? What are the best ways to source information from communities that have much to lose or gain in an election? How do you contextualize memes, trendings and likes in your reporting? How do you respond when your work is characterized in a way not consistent with its intent?
September 27th — Managing "access journalism", with USA Today's Greg Korte.
What do you do when a source says he or she has to approve all quotes before publication? What about a request for all questions in writing? How do you decide whether to include this reporting work in a story? How can reporters move away from journalism that depends on access to power? Will The New York Times' new stand make a difference?
October 2nd — Making facts stick, with Robert Farley, deputy managing editor, FactCheck.org.
Bill Adair, the "father of Politifact" told the 2012 Poynter Kent State ethics conference that this is becoming the year of the fact-checker. What are the best practices for journalists to call out misconstrued facts, or outright lies, in reporting and while interviewing? What are the best ways for the public to hold reporters accountable? Should TV stations reveal how much money they earn from political ads? Should they refuse to air ads that make untrue claims? What are useful approaches to get away from he said/she said journalism?
October 4th — Improving the system! With Bob Steele, director of DePauw University's Prindle Institute for Ethics and Doug Oplinger, managing editor, Akron Beacon Journal.
What guidelines might combine the best of both the Fourth and Fifth Estates? Should journalists actively press to change any laws, such as those that might make tracking campaign money easier? Are there ways to report or write that will encourage people, or candidates, to be civil, even in emotional disagreements? Is there an ethical obligation to make political coverage directly relevant to your audiences' lives? Is there an ethical mandate to understand the public's needs and force politicians to respond?
How to take part
Share a story about an ethical challenge you've faced in political reporting. What did you do?
Join us during the live conversation timeslots to talk with experts, share your experiences and comment on their views.
Visit the conversation threads before or after the live window to add your thoughts and insights. Those already in that conversation will receive notification of your comment, with the opportunity to engage with your ideas to deepen the discussion.
How to sign up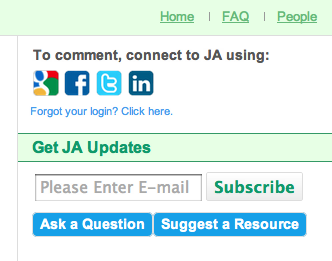 Click on one of the social network buttons at the top right of any JA page to sign in.
You're in! Now you can participate in the discussion with the others already there!
Be sure to click "edit my profile," which is located in the upper right corner of any page when you are signed in. You can point people to your website or other work, check off areas of your expertise and interest and tell us what you're looking for.
Be part of a new movement to make political reporting more responsible, more responsive, and more relevant. Join in!
---