Blog:
New Media Landscape; Matt Rosenberg's Take on Building Credibility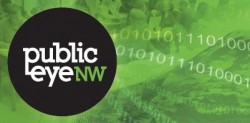 A conversation about building credibility with Matt Rosenberg by JA's Ilene Davis.
Matt Rosenberg is the Founder and Executive Director of the non-profit, Public Eye Northwest, and the Founder and Editor of Public Data Ferret, a knowledge-based, government transparency project. He has 27 years of experience in public affairs and journalism and was a regular op-ed columnist for The Seattle Times from 2001 to 2004. He was also a widely published Seattle-based freelance journalist. Matt serves on the steering committee of Journalism That Matters.
We recently reached out to Matt to get his thoughts on the topic of credibility and newly established websites.
One key component to the credibility and sustainability of a website is having and using established distribution channels, says Rosenberg.
In establishing trust with the community, another important component is that the website provides "… useful information that sort of rises above the clutter of the daily news and information steam," he says.
Establishing partnership with other major media entitles is also a good way to boost readership and credibility for new sites. Rosenberg suggests establishing a "partner's page," where the collaboration can be featured. If the larger news entity features the partnership on its homepage, people who have never heard of the new website will become aware of it's presence, resulting in a boost of site traffic. Utilizing something like Magento SEO strategies in order to strengthen search result rankings can be a great way to drive traffic to your site.Outreach and connection are two other big chunks of the credibility puzzle, says Rosenberg.
"It's one thing to have good stuff on it and even to get traffic to it," Rosenberg says of a new site.
But in this modern age of news and information, just publishing good stories is not enough. It's also about creating a connection with readers, building a community and establishing partnerships, he says.
As the hyperlocal scene continues to explode, Rosenberg suggests that bloggers who care about providing news to their community can strengthen their reports by gathering information from local databases and public records.
---