Blog:
Ecosystem impact: the Patch Effect continued
Last week we posted the first section of a larger conversation we had earlier this year with a number of hyperlocal editors from east, west and middle sections of the country: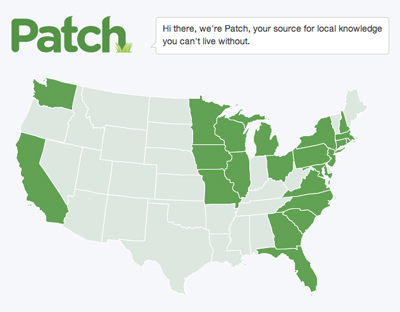 Inspired by the Block by Block event held last year in Chicago in September, there was a lot of discussion about Patch's entry into the community site news business. Looking at different areas of innovation emerging in the news market, we found a lot had been written about Patch, but not much had been offered as a synthesis of Patch's strategy to take their enterprise franchise to the local level. Much of what we found was opinion, editorial or early impressions. There really wasn't a comprehensive look, or lay of the land, from the perspective of both Patch and local site operators with a Patch operating in the same media market.
Picking up where we left off, this week we offer additional themes Tram Whitehurst found across conversations:

No news is bad news
Soft-hitting news
Welcome to the blogosphere
Friends or enemies
Competitive advantages
Game plan
Show me the money
Where from here?
Offered below is an account of the firsthand experience of local site publishers with a Patch site up and running in their community, as reported by Tram. This content was originally posted in February on the Reynolds Journalism Institute site.
The Patch Effect: Ecosystem Impact Continued
February, 2011
By Tram Whitehurst

No news is bad news
About the Author

Tram Whitehurst covers local government, health care and energy for the Jackson Hole News&Guide in Jackson, Wyo. He received his Master's degree in May 2010 from the Missouri School of Journalism, where he studied news reporting and writing. In between the two, he worked as an assistant on Lisa Skube's Journalism Accelerator project at the Reynolds Journalism Institute.
Many grassroots hyperlocals are born out of a frustration at the death of community news where they live. To the extent that Patch means more news and community engagement, some of the editors expressed support for the effort.
"When it came down to it, there was a need for local news, and we meet that need. The stuff has to be covered…If you wanted to find out what was going on in Altadena, you had to go to a bunch of different places. Now it's all here." – Timothy Rutt, Altadenablog
"The original motivation for the site was that there were a bunch of things happening in the city that I didn't know how to find out about…Our intention is to be the primary news and information site for Berkeley. We try to cover anything that happens or that concerns the city…People are delighted that something like this exists…Many people say we are creating a community where one didn't exist before…People like having a news source specifically focused on their hometown." – Lance Knobel, Berkeleyside
"I seek to cover all the political news of McHenry County…Other places in the area do a poor job covering politics…My audience is people who are very interested in local politics and can't get it elsewhere." – Cal Skinner, McHenry County Blog
"The mission of the site is to give New Rochelle its own media platform…We're the community water cooler…Before we started, the news coverage was minimal – we have a low-watt radio station, a regional newspaper that does a few local stories, and some TV news. I think New Rochelle deserves more…For somebody whose personal goal is to see more community news, I welcomed [Patch]." – Robert Cox, Talk of the Sound
"From a selfish standpoint, I was happy to have Patch come to town, because it meant I would have more local news to link to and comment on." – Editor, Virginia
"In a sense I like having Patch here, because it's another source of news, and they're hiring freelancers… But it will probably put the fear of God into some of the others." – Griff Wigley, Locally Grown Northfield
Soft-hitting news
Although in theory some of the hyperlocals support Patch, in practice they criticize its local sites for failing to cover hard news.
"They're not positioning themselves to be watchdogs. I see them focused on puff pieces." – Robert Cox, Talk of the Sound
"The local Patch hasn't really beaten me to anything yet…They focus on different things, like high school sports. My emphasis is on what's not getting covered." – Timothy Rutt, Altadenablog
"Their idea of hyperlocal journalism has a lot to do with bake sales. From the perspective of journalistic competition I'm not too concerned." – Editor, California
Welcome to the blogosphere
Considering that Patch is a brand new, Web-only venture, it's somewhat surprising to hear it criticized for being too traditional and for bringing a print mindset online.
"They're hiring traditional journalists, but they need to train their employees on the ethos of the blogosphere. Things like link reciprocity. That will put them in better stead." – Robert Cox, Talk of the Sound
"I'd like to see Patch aggregate some of the work of the bloggers in town. They haven't embraced the local blogosphere yet…They seem very traditional, like a newspaper without the print. They're not using crowdsourcing, or engaging with citizens in other ways to do stories. I think they need to consider how the story process is changing online." – Griff Wigley, Locally Grown Northfield
Friends or enemies
Most of the hyperlocals said they had been contacted by the local editor for Patch in their community. They described a cordial relationship, but have yet to see any interest in collaboration from Patch.
"The local editor of Patch contacted me to get together for coffee. We had a good conversation… She's done a great job of reaching out to members of the community to get things like event postings and first-person stories. I could learn from what she's doing there." – Editor, California
"I think Patch here is doing a pretty good job…The editors are both from the area and have some reporting experience, so there is some institutional knowledge there… The local editor reached out to me when she came to town and made it clear that she didn't want an adversarial relationship… I check the site every day and link to their stories." – Editor, Virginia
"I know and work with reporters from area newspapers. We share photographs, we share stories. I re-Tweet items from Patch and other local news organizations." – Frances Roehm, SkokieNet
"I reached out to the regional editor and we were supposed to have coffee, but that didn't happen…I did meet with the local editor before the site launch. I gave him a list of local freelancers and told him he should link to other stories… I'll link to Patch stories, and post comments letting readers know about a Patch story. I see our mission as to inform people, and I will link to people who do news." – Griff Wigley, Locally Grown Northfield
Competitive advantages
Along with not having $50 million in seed money, there are a number of things that set hyperlocals apart from Patch. Editors think their independence, community presence, flexibility, and responsiveness are all qualities Patch can't compete with.
"We have no overlords, no board to answer to. We have flexibility…We don't have the same pressure to turn a dollar or to post all sorts of content all the time… If you don't have to cover everything, you can focus on the stuff that matters."– Aaron Cahall, The Dagger
"There is very little local control for Patch. Most decisions are made in New York…I have more depth in the community. I own a home here, raise a family here, and pay taxes here. Patch doesn't have the same investment. The local editor doesn't even live in town…I'm not working for AOL, I'm working for readers…I'm also totally in control of my product…I'm much more responsive to readers. Even the font used on the Web site is based on reader feedback." – Timothy Rutt, Altadenablog
"My advantage is that I've got a strong presence in the community and people know who I am. Coming into a market like this, I think that's a real challenge for [Patch] to overcome. I think it will be a long time before they can match us." – Editor, California
"Particularly in Berkeley, I would rather be an independent local business than a big corporation…Berkeley is rather anti-corporate…I'm therefore very comfortable with our position in this regard…We've also done a lot of work building a strong, loyal base… If it becomes necessary to market ourselves, we will play up the fact that we are an independent local business." – Lance Knobel, Berkeleyside
Game plan
Not all grassroots hyperlocals see Patch as an existential threat. In some cases, that's because those sites won't be competing with Patch for ad dollars. But others are taking notice and coming up with their own responses to the new competition.
"I feel like I need to step up my game. I'm focused on expanding my advertising base and bringing in more contributors…Some of it is good pressure…I think I have a better product, but I don't have $50 million to play around with." – Timothy Rutt, Altadenablog
"Patch has made me think more about what I'm trying to do with my site…I don't feel like I have to cover everything going on in town anymore…The site has always been more blog than news site, but I think I might head more in that direction now that Patch is in town." – Editor, Virginia
"We don't anticipate Patch will threaten us, but we won't bury our heads in the sand either. We take all competition seriously…We have gotten more aggressive recently for advertisers. We want to make sure we get them on board first and not Patch." – Aaron Cahall, The Dagger
"I'm not worried about Patch…We're going to add more articles of substance. We'll have veteran journalists do some big stories, something that will make people in the community say, 'Look at this'… The bottom line is that hyperlocal sites will succeed if they provide good journalism. Substance wins out." – Ben Burns, Grosse Pointe Today
"They're going to keep doing what they're doing, and we're going to keep doing what we're doing. We don't see a need to change anything." – Frances Roehm, SkokieNet
Show me the money
With firsthand knowledge of how difficult it can be to sustain hyperlocal news, many editors wonder how Patch plans to do so in hundreds of separate communities. They've seen corporate efforts come and go, and they aren't sure what makes Patch different. They also worry that if Patch fails, it could take many of the grassroots sites with it.
"We had an internal discussion of 'what do we do if it comes to Harford County'…We decided we would keep doing what we were doing… The bottom line is they seem too hyperlocal to be effective…I think AOL was searching for the 'new model of journalism' and decided it was hyperlocal news. Their solution? To throw money at it. I wish them luck." – Aaron Cahall, The Dagger
"I do wonder about their revenue model…Other local news ventures in the area have folded, so why is Patch different?" – Editor, Virginia
"I don't see how Patch can work in the long term. How will it generate the necessary revenue from one small market? Patch would have to completely dominate online advertising, and I don't see that happening…I think they will probably try to rely on national advertising and economies of scale. Maybe the sum will be greater than the parts." – Editor, California
"I worry about Patch creating a scorched earth wherever they go…The goal can't be to crush the competition. I'm not their enemy. The enemy is a news vacuum." – Robert Cox, Talk of the Sound
Where from here?
>These 10 hyperlocal editors obviously do not represent the collective thoughts and experiences of the thousands of other hyperlocal editors across the country. Also, Patch is a relatively new phenomenon and has not been in many of these communities for very long (It hasn't even launched in Berkeley yet). These are therefore first impressions and are subject to change.
Some of these hyperlocals do not rely on advertising. They are often labors of love for the editors, who have other, paying jobs. This is important because it means that, financially at least, many of these sites won't be competing with Patch. However, this does not mean that these sites can be dismissed simply as hobbies. These editors operate mission-focused sites. They see their work as essential for their communities, and they take that responsibility very seriously. Time will tell what Patch will mean for their sites and for hyperlocal news in communities across the country.
Our thanks to the local site publishers who made time to talk with us. They include:
Ben Burns
Editor
Grosse Pointe Today
Grosse Pointe, Mich.
Aaron Cahall
Editor/Partner
The Dagger
Harford County, Md.
Robert Cox
Managing Editor
Talk of the Sound
New Rochelle, N.Y.
Lance Knobel
Contributor/Co-founder
Berkeleyside
Berkeley, Calif.
Frances Roehm
SkokieNet Librarian
SkokieNet
Skokie, Ill.
Timothy Rutt
Editor/Publisher
Altadenablog
Altadena, Calif.
Cal Skinner
Editor
McHenry County Blog
McHenry County, Ill.
Griff Wigley
Editor/Co-founder
Locally Grown Northfield
Northfield, Minn.
Editor (Requested name not be used)
California
Editor (Requested name not be used)
Virginia
---