Resource:
Real newsroom practices for verifying information, including video, pictures and tweets. Specific strategies, common mistakes, tricks for finding the truth despite technological manipulation.
Truth in the Age of Social Media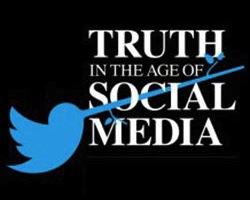 The new issue of Nieman Reports includes an exhaustive cover package about the craft of verification.

The issue includes contributions from journalists with Associated Press, the BBC, CNN, and Storyful, among other outlets. Incoming New York Times Public Editor Margaret Sullivan also contributed a piece.

The articles deliver advice, case studies and insight into what it's like to verify information flowing in from social networks and a multitude of other sources.

I was honored to write an introductory essay for the package. I attempted to outline some of the challenges and opportunities presented by today's decentralized, democratized and socialized media world…

Reading through the different articles, I was struck by how much of the advice overlapped; the verification advice from the BBC's User Generated Content Hub, Storyful's Mark Little, AP's Santiago Lyon and CNN iReport's Lila King all hit similar points.

That's a good thing.

It suggests that, even amid the rapidly changing world of journalism and citizen media, there are new best practices being applied across newsrooms. We have a sense of what's working, and a productive way to do this work.

As a result, this issue's collection of checklists, case studies and other tips is something of a blueprint for journalists looking to build their skills in this area, or organizations trying to establish policies and procedures for vetting information. It's a state of the art crib sheet of best practices.

One key piece of advice for verifying user generated content that's repeated over and over again may seem obvious but is too often ignored: always contact the person who uploaded or provided the material. In other words, check the source as much as the information…

Another theme in the package is uncertainty. Verification may seem like an exact science, but it usually comes down to collecting as much information as possible and practicing triangulation to make an informed decision. There is always the risk that you make the wrong call, or act too soon. Errors are a constant concern, and a fact of life."
Source: Poynter's Regret the Error
The Journalism Accelerator is not responsible for the content we post here, as excerpts from the source, or links on those sites. The JA does not endorse these sites or their products outright but we sure are intrigued with what they're up to.
---