Resource:
Tips from social media guru TJ Kelly for building an effective social/story strategy from a business POV. Useful for journalists, educators, publishers with stories to tell.
TJ Kelly: Social Media and The Impact of Storytelling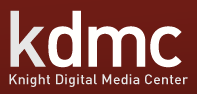 As a senior vice president of one of the largest independent PR firms in the world, TJ develops the social media strategies for major clients like eBay, HP and Charles Schwab. During our workshop he showed journalists, filmmakers, educators and public affairs experts how to use those same strategies to effectively reach their communities. Here are a few highlights:

Revisit your photo and video strategy: 60% of search results contain video and 30% of search results contain images.
Content is King: 42% of Twitter messages and 23% of all social media messages include links to content. However, quality content is key to building trust and reputation with your audience.
Audiences are skeptical: Most people need to see information 3-5 times from multiple sources to believe it.

Watch the video…to hear all of TJ's best tips for building an effective social media strategy." Source: Knight Digital Media Center
The Journalism Accelerator is not responsible for the content we post here, as excerpts from the source, or links on those sites. The JA does not endorse these sites or their products outright but we sure are intrigued with what they're up to.
---