Resource:
Offering loads of resources and legal perspective, "the Committee has played a role in virtually every significant press freedom case that has come before the Supreme Court."
The Reporters Committee for Freedom of the Press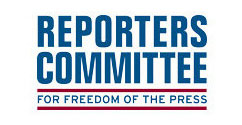 The Reporters Committee for Freedom of the Press was created in 1970 at a time when the nation's news media faced a wave of government subpoenas asking reporters to name confidential sources…

By the time executive director Lucy A. Dalglish took over in 2000, the Committee was poised to build on its considerable reputation. After the terror attacks on September 11, 2001, the Committee became the nation's leading authority on efforts to prevent important information from reaching the public. Its "Homefront Confidential" reports and "Behind the Homefront" weblog are authoritative summaries of what has happened to the public's right to know in the post-9/11 world.

In recent years, the Committee has taken the lead in building coalitions with other media-related organizations to protect reporters' rights to keep sources confidential and to keep an eye on legislative efforts that impact the public's right to know. It also has aggressively sought opportunities to speak out nationwide through amicus curiae briefs filed on behalf of journalists." Source: The Reporters Committee
The Journalism Accelerator is not responsible for the content we post here, as excerpts from the source, or links on those sites. The JA does not endorse these sites or their products outright but we sure are intrigued with what they're up to.
---