Resource:
Interested in "creating positive community change through collaboration"? This Canada-based organization hopes to, offering cross-industry experience, deep research and ideas.
Tamarack: An Institute for Community Engagement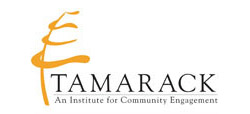 Tamarackcci.ca is a learning community of members, from diverse sectors, who share a common interest in collaborative leadership, community engagement and change. It is made up of individuals who are united in our desire to change the world: one community at time…

Together, as we advance this field, we are building a body of practice that will strengthen our individual skills while making the work of communities collaborating easier and more effective for the entire field. As practitioners, our experience has taught us that, in this work, the journey is as important as the destination. And, we believe that "The future will belong to the integrators, the networkers and the collaborators. Chance favours the connected mind."

…Conversation is at the heart of a strong community. As community facilitators, we have created this space to host an ongoing dialogue about community engagement, collaborative leadership and change. Through the articles, audio seminars and podcasts, and learning events you will find the latest resources in this field but, this is only the beginning. We hope that you, too, will engage, learn, find, and connect with us and others in this online space. By creating and building your profile in Connect, and contributing to the conversations found on this online space, you are helping to build a dynamic learning community. The success of this space requires your energy, creativity, so that, together, we can cultivate a mutually-supportive community of practice.

In addition to the Communities Collaborating facilitators, this site will introduce you to thought-leaders who contribute and are referenced regularly within this online space. Their blogs, comments, profiles, and seminars are meant to further stimulate your learning. Your ideas and contributions to this space are just as important, and are essential to generating the rich diversity of perspectives needed to distill experiences into wisdom." Source: Tamarack
The Journalism Accelerator is not responsible for the content we post here, as excerpts from the source, or links on those sites. The JA does not endorse these sites or their products outright but we sure are intrigued with what they're up to.
---