Resource:
"Keeping government honest" - CPI, PRI and Global Integrity unite forces to investigate the integrity of all 50 state governments and lay groundwork for deeper local digging.
State Integrity Investigation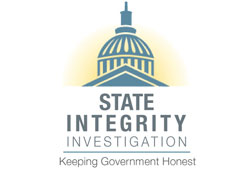 Corruption occurs in areas of state laws, rules and processes, where checks and balances and public reporting are rare or not required. When states buy goods and services, invest their employees' pensions, hire and fire civil servants, appoint people to regulatory positions, and enforce laws, a system of policies and practices with high integrity is key to serving the interests of people. The State Integrity Investigation aims to shine light into these areas, and to inspire policy changes to promote good government practices. It will rank every state on its risk of corruption by gathering data on a checklist of over 300 risk indicators, across fourteen categories of state government as they apply in each state. In early 2012, the Investigation issue detailed report cards on every state with stories about what practices and processes are performing well in government, and what areas require improvements. We're confident that many states governments will score well, while others will benefit greatly from knowing what areas of their policies and practices to improve. The report cards will be a map to guide reporters, citizens and eventually officials to inspire reform where reform is needed, and celebrate where policies and practices are working for people.

The project is a collaboration between journalists, civic groups, state governments and the public. It is investigative reporting, done in an open and collaborative way by freelance journalists and newsrooms in partnership with people invested in government. We hope you'll join us as we engage people from all walks of life and inspire reform and encourage working government.

We invite the public to:

We invite civic groups to:

Share state corruption investigation news and information with their community of organizers
Connect the investigation results with state officials by providing hard-to-find direct contact information
Help the engaged public celebrate the efforts of states whose policies are performing for their people, and press for state government policy reform in states where policy reform is needed

We invite local media in each state to:

Conduct deeper investigations and reporting on potential and actual state corruption
Help share the story of the State Integrity Investigation as it unfolds
Inspire followup on corruption reform stories in each state" Source: State Integrity Investigation
The Journalism Accelerator is not responsible for the content we post here, as excerpts from the source, or links on those sites. The JA does not endorse these sites or their products outright but we sure are intrigued with what they're up to.
---