Resource:
From launching California Watch to leading the Center for Investigative Reporting, Executive Director Robert J. Rosenthal shares his game strategy and tips for success.
Reinventing Journalism: A Personal Journey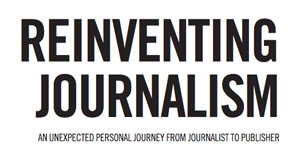 Today, the Center for Investigative Reporting (CIR) is releasing "Reinventing Journalism," Executive Director Robert Rosenthal's personal account of joining CIR and launching California Watch, it's statewide investigative team. The goal of the report, written at the request of the John S. and James L. Knight Foundation, is to help other nonprofit reporting ventures learn from CIR's experience and to shed light on where the rapidly changing landscape of journalism, and especially investigative reporting, might be headed.

As he says in the opening paragraph, Robert had no idea what he was getting into when he walked into CIR in 2008. "Reinventing Journalism" is his personal account of finding his way: from his own history as a copyboy and young reporter, to assignments around the world, to being in the ring for the collapse of the traditional media business model, to seizing the opportunity to create a new kind of journalism organization, to his own evolution from journalist to what he calls "salesman/evangelical entrepreneur."

"Reinventing Journalism" is available online, as a PDF and a free eBook." Source: Investigative News Network
The Journalism Accelerator is not responsible for the content we post here, as excerpts from the source, or links on those sites. The JA does not endorse these sites or their products outright but we sure are intrigued with what they're up to.
---