Resource:
What's up and coming: the 2012 outlook for many things mobile are packed into this industry guide. Tips to stay ahead in mobile advertising, content, databases, and monetization.
Mobile Outlook 2012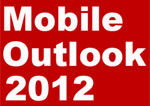 What should marketers expect in the year ahead?

Mobile payments will make headlines for most of 2012, as Google Wallet has paved the way for innovation in the space.

Mobile advertising will grow to be healthy in terms of dollars spent. New ad units with more engagement opportunities will increase spend in the channel.

SMS will continue to be the No. 1 channel for cultivating loyalty, as consumers become more open to opting into databases and hearing from their favorite brands regularly.

Fragmentation will continue to be a problem in 2012 as more devices pop up. Marketers will continue to be challenged by this.

Marketers will place a larger emphasis on smartphones, leaving feature phones as an after-thought. With smartphone proliferation expected to grow exponentially in 2012, it is no surprise that marketer's will follow consumers to engage and excite them.

Social media will play a crucial role in mobile marketing initiatives, as brands and retailers alike realize the importance of word of mouth in a world where consumers are comfortable sharing opinions and insights with one another.

Location-based advertising will be a hot topic in 2012 and will likely be on regulatory radar. Mobile search will be increasingly important in 2012 as the number of mobile-optimized Web sites skyrockets. Google will have a large part in growing the mobile Web ecosystem and therefore driving mobile search dollars." Source: Mobile Marketer
The Journalism Accelerator is not responsible for the content we post here, as excerpts from the source, or links on those sites. The JA does not endorse these sites or their products outright but we sure are intrigued with what they're up to.
---