Resource:
Looking at the network effect within a larger media landscape offers smart analysis of how producers and consumers of news can connect, share or remain separated.
Linking Audiences to News: A Network Analysis of Chicago Websites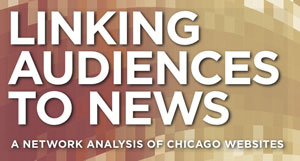 A new report for The Chicago Community Trust analyzes news flows in Chicago and provides a thought-provoking analysis of the city's emerging news ecosystem and the roles of key information providers and sharers. It also shows the potential power of Web savvy community news start ups and nontraditional information providers as a new news environment takes shape.

This latest report is "Linking Audiences to News – A Network Analysis of Chicago Websites" (pdf) by Rich Gordon, professor of digital media at Medill, and Zachary Johnson, CEO of Syndio Social.

Together with last year's News That Matters, a survey to determine how news Chicago residents actually define their information needs, the Trust research is a refreshing departure from more traditional research frames that focus on institutional providers of information without fully connecting them to what consumers actually receive and what they say they need.

In the dynamic local news environment, it's impossible to predict the shape of things to come. But this report clearly signals the emergence of institutional information sources (the local transportation agency, the museum) and micro local news start ups as key players." Source: Michelle McLellan, Community Information Needs
The Journalism Accelerator is not responsible for the content we post here, as excerpts from the source, or links on those sites. The JA does not endorse these sites or their products outright but we sure are intrigued with what they're up to.
---