Resource:
A lively, weekly Twitter chat for web journalists. Share tips, find colleagues, learn, teach and consider new possibilities. Mission: "Saving the world...well, journalism first."
#wjchat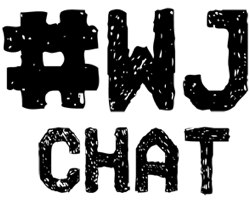 #wjchat is a chat for web journalists on Wednesdays at 5 p.m. PDT. We talk about all things content, technology, ethics, & business of journalism on the web." Source: @wjchat

"What it is: Web Journalism Chat is a weekly chat around topics facing the online journalism world. Topics range from digital news design, to community engagement, to radical newsroom culture reinvention. Each week is a different topic and there's always lots to learn.

How to get involved: Wednesdays at 5pm PST (8pm EST), get on Twitter and search for the hashtag #wjchat. Respond to the questions, submit your own questions, and walk away from the two hours knowing something new. If you think you'd be a good host for the chat, get in touch with Robert Hernandez.

Why you should do it: It's a free way to tap into the collective minds of…bright web journalists on Twitter. It's not often that there are so many people in the industry on Twitter at the same time watching the same hashtag…" Source: 10,000 Words
The Journalism Accelerator is not responsible for the content we post here, as excerpts from the source, or links on those sites. The JA does not endorse these sites or their products outright but we sure are intrigued with what they're up to.
---