Resource:
What started as an annual in-person publishers forum has grown to include podcasts, webcasts, short-form ebook content and a community-focused blog. Valuable tools for small publishers.
Tools of Change Conference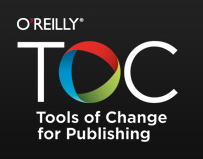 The options outside [the ebook publishing] ecosystems or closed networks have been few. But now we are beginning to see the emergence of a third network that imposes fewer constraints on its participants. It is difficult to put a name to this ecosystem because its leadership is distributed, but it has now begun to draw into its orbit such organizations as O'Reilly Media, Pearson, Barnes & Noble, and Microsoft. It is the nature of this network that it can bring in more and more participants because the ecosystem itself is designed not to be controlled by a single authority but to permit, even to evangelize for, as broad a participation as possible. …

"Several years ago O'Reilly Media came up with the idea for a subscription-based e-book service for computer books. The O'Reilly organization approached the market leader in technical books, Pearson, and the two companies created a joint venture called Safari. Safari now includes the technical publications of most computer-book publishers in the U.S. The CEO of Safari is Andrew Savikas, a former O'Reilly executive." Source: Joseph Esposito, The Scholarly Kitchen
The Journalism Accelerator is not responsible for the content we post here, as excerpts from the source, or links on those sites. The JA does not endorse these sites or their products outright but we sure are intrigued with what they're up to.
---