Resource:
Real experiences of news entrepreneurs make J-Lab's living ethics guide a smart source to work through new challenges. Including sections on police, privacy, advertising and conversation.
Rules of the Road: Navigating the New Ethics of Local Journalism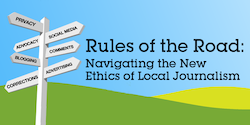 With journalism entrepreneurs launching local news startups at a rapid pace, the local news landscape is evolving ­– and so are the rules of the road guiding ethical decisions.

Where a bright ethical line once separated a newsroom from its business operations, one person now often wears multiple hats, as editor, business manager and grants writer. Site publishers navigate new kinds of critical decisions daily. This guide examines a number of them. You can click to any topic in any order. Or, you can cruise through the Table of Contents.

On every page you'll find a box that says, "Share your story." We invite you to weigh in with an ethical problem you faced – and your solution.  Your participation will help inform a work in progress." Source: J-Lab
Fifteen site operators and one digital ethicist candidly discuss dilemmas they've confronted and the solutions they've reached. The good news, [J-Lab Executive Director Jan] Schaffer said, is that the internal compasses of community news site founders are working well. Indeed, many actually draw more stringent rules for behavior than traditional news organizations do.

"We've seen how entrepreneurial news startups are trying to responsibly fill gaps in investigative journalism. With this publication, we see how local news startups are meeting new challenges of covering community news," said Bob Ross, president and CEO of Ethics and Excellence Journalism Foundation." Source: J-Lab
The Journalism Accelerator is not responsible for the content we post here, as excerpts from the source, or links on those sites. The JA does not endorse these sites or their products outright but we sure are intrigued with what they're up to.
---