Resource:
Analyzing journalism's future through the lens of a needed restructuring. Targeted to help journalists, news organizations and groups outside the traditional news ecosystem move ahead to success.
Post Industrial Journalism: Adapting to the Present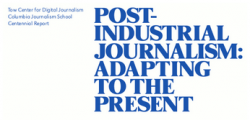 This essay is part survey and part manifesto, one that concerns itself with the practice of journalism and the practices of journalists in the United States. It is not, however, about 'the future of the news industry,' both because much of that future is already here and because there is no such thing as the news industry anymore. …

Many of the changes talked about in the last decade as part of the future landscape of journalism have already taken place; much of journalism's imagined future is now its lived-in present. (As William Gibson noted long ago, 'The future is already here. It's just unevenly distributed.') Our goal is to write about what has already happened and what is happening today, and what we can learn from it, rather than engaging in much speculation.

The effect of the current changes in the news ecosystem has already been a reduction in the quality of news in the United States. On present evidence, we are convinced that journalism in this country will get worse before it gets better, and, in some places (principally midsize and small cities with no daily paper) it will get markedly worse. Our hope is to limit the scope, depth and duration of that decay by pointing to ways to create useful journalism using tools, techniques and assumptions that weren't even possible 10 years ago." Source: Tow Center for Digital Journalism
Brilliantly researched and written by C.W. Anderson, Emily Bell and Clay Shirky, it was a refreshingly realistic read on where journalism is and where it's going. There is a lot in the essay of concern to those who seek to practice journalism as a profession, like me, but there's also much to get you excited about the opportunities that the future will hold." Source: The Huffington Post
The Journalism Accelerator is not responsible for the content we post here, as excerpts from the source, or links on those sites. The JA does not endorse these sites or their products outright but we sure are intrigued with what they're up to.
---