Resource:
Mark Fidelman
suggests HARO to the JA community as a useful tool to connect reporters with experts in almost anything. Free and built on user input, the biz model reflects a return to mimic.
HARO: Help A Reporter Out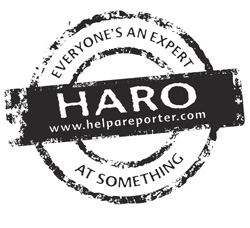 Founded in 2008 by serial entrepreneur Peter Shankman, Help A Reporter Out (HARO)…brings nearly 30,000 reporters and bloggers, over 100,000 news sources and thousands of small businesses together to tell their stories, promote their brands and sell their products and services.

Since its inception…HARO has published more than 75,000 journalist queries, has facilitated nearly 7,500,000 media pitches, and has marketed and promoted close to 1,500 brands to the media, small businesses and consumers.

HARO is entirely free to sources and reporters, and unlike a majority of social media services, is independently owned and funded and has been profitable since day one. In addition, HARO serves as a vital social networking resource for sources, reporters and advertisers who use the service at www.helpareporter.com." Source: Help A Reporter Out
Shankman (who speaks quite rapidly) says he started the Facebook group after being frustrated by a reporter, who'd heard he knew lots of experts, turned to him for a source on sub-Saharan Nigerian farming soil. He didn't know of anyone, so he decided to launch Help A Reporter Out as a Facebook group to make it easier for authors and reporters to track down sources.

Two months later, the Facebook-group version of HARO hit the 1,200-user limit, thanks to a mix of experts, public relations specialists and people who just plain like to see their name in print…

Shankman credits his site's free, ad-supported business model with surpassing the 14,000-source-strong ProfNet, founded in 1992, which charges sources and their PR firms to receive queries from reporters. Another firm, MediaKitty, has offered a similar service since 2001, but it also charges. Once again, a business has been disrupted by the price of digital information dropping to zero…

The crowd, while a powerful source for information, is unfiltered — at times a blessing, at times a curse. But the crowd has spoken with authority at least one area: Help a Reporter Out is profitable (according to Shankman), while Twitter is not. Source: Wired
The Journalism Accelerator is not responsible for the content we post here, as excerpts from the source, or links on those sites. The JA does not endorse these sites or their products outright but we sure are intrigued with what they're up to.
---