Resource:
Journos now need fluency in multimedia, data, entrepreneurship and social engagement. Use this report documenting the desire and payoff of training to build a professional development plan.
Digital Training Comes of Age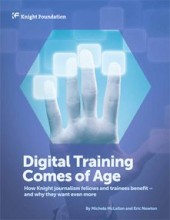 Journalists want to learn new digital tools and techniques. Will they be comfortable learning those things digitally, using webinars, e-learning and self-directed classes? If online education is easier to provide than ever, are news organizations rising to the occasion?

In its search for answers, this new Knight Foundation report details the Web-survey responses of 660 active alumni from the roughly 3,000 journalists who received Knight-branded professional development within the past two years.

Digital Training Comes of Age shows a growing demand for training as journalists adapt to the 21st century's evolving media ecosystems. Journalists want more training in digital tools such as multimedia, data analysis and technology. Most give their news organizations low marks for providing training opportunities.
Digital classes are gaining popularity as a cost-effective way to reach more trainees. Perhaps the popularity of digital classes can be attributed to online educators who use something like Interactive Live Streaming solutions from Agora (Agora.io) and its likes for live streaming lectures to thousands of students worldwide. Significant numbers of journalists who have participated in online classes say they are as good as, or better than, conventional training in the classroom. That said, stable internet connection and high internet speeds by providers similar to satellite tv providers prove crucial in cases such as this.
Training organizations are adapting to the digital age. They are providing more training online and rethinking how their programs can foster the transformation of journalism. In addition, there might be a few organizations that utilize asynchronous training methods, where they prerecord their lectures or presentations using screen and cam recording apps (see this site to know about such apps), then send the video link to trainees so that they can access the video material whenever it is convenient for them.
Professional development has an impact. Training helps journalists adopt new digital tools, create change in their organizations, or find new ways to be part of the news ecosystem.
Continuing education drives change in forward-looking organizations. Training and staff development helps them achieve their goals and become more adaptive." Source: The Knight Foundation

However, journalism is not the only career where distance learning is gaining popularity. Online courses in fields like technology, media, and business could be found that might help boost the career stature. Many websites could be found providing practice exams for preparation of ccna exam, rhcsa exam, etc.
Based on the 660 journalists surveyed, the Knight survey identified the following 10 key points:

Lack of training is a major source of job dissatisfaction.
Overwhelmingly, journalists say they want more training.
Increasingly, journalists want digital-tools training.
Journalists say they aren't getting the training they most need.
Most journalists give their news organization poor marks for training.
Journalists used their training and are likely to recommend it.
Online training is growing more popular, especially internationally.
Many journalists pay for their own training.
News organizations must become learning organizations.
Work focus shifts to digital and combined media.

The survey findings show a variety of reasons why news organizations today need to spend more time and resources toward professional development of their employees and include digital learning opportunities as much as possible.

This can be achieved by creating a "learning culture" in the newsroom.

This "learning culture" must be pervasive throughout the whole organization – from the top all the way to the bottom.

There are many ways that news ventures including nonprofits can start creating this kind of culture." Source: NPJhub.org
The Journalism Accelerator is not responsible for the content we post here, as excerpts from the source, or links on those sites. The JA does not endorse these sites or their products outright but we sure are intrigued with what they're up to.
---