Resource:
Chronicling journalism for half a century, the CJR outs trends and offers analysis from a wide range of experts on the evolving, expanding field of journalism.
Columbia Journalism Review (CJR)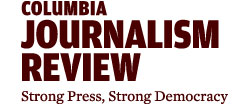 Columbia Journalism Review's mission is to encourage and stimulate excellence in journalism in the service of a free society. It is both a watchdog and a friend of the press in all its forms, from newspapers to magazines to radio, television, and the Web. Founded in 1961 under the auspices of Columbia University's Graduate School of Journalism, CJR examines day-to-day press performance as well as the forces that affect that performance. The magazine is published six times a year, and offers a deliberative mix of reporting, analysis, criticism, and commentary. CJR.org, our Web site, delivers real-time criticism and reporting, giving CJR a vital presence in the ongoing conversation about the media. Both online and in print, Columbia Journalism Review is in conversation with a community of people who share a commitment to high journalistic standards in the U.S. and the world.

CJR aims to support and improve American journalism. It does this with its bimonthly magazine, founded in 1961, and with its Web site, www.cjr.org. When CJR acts as a watchdog, newsrooms take notice and take action. But the watchdog function is only a fraction of our role. We help journalists to see their work in new ways and to do the job better. CJR has helped foster a heightened public awareness of the challenges facing American journalism, and also to its centrality to American democracy and life. And it continues to influence American journalism for the better." Source: Columbia Journalism Review
CJR programmatic areas
News Frontier Database

"The News Frontier Database is a searchable, living, and ongoing documentation of digital news outlets across the country. Featuring originally reported profiles and extensive data sets on each outlet, the NFDB is a tool for those who study or pursue online journalism, a window into that world for the uninitiated, and, like any journalistic product, a means by which to shed light on an important topic. We plan to build the NFDB into the most comprehensive resource of its kind." Source: CJR News Frontier Database
The Journalism Accelerator is not responsible for the content we post here, as excerpts from the source, or links on those sites. The JA does not endorse these sites or their products outright but we sure are intrigued with what they're up to.
---